Industrial potential
LLC "UniversalStroyMash" has up-to-date production bases.
The production buildings are equipped with all the necessary equipment:
cutting and blanking;

metal-working;

welding and assembling;

press;

press forging;

heat-treatment;

hoisting;

blasting;

painting.
The following subdivisions and services are located in office and utility rooms:
Design and Engineering Bureau;

Quality Control Department;

Weld Control Lab;

Utility rooms.
LLC "UniversalStroyMash" is equipped with all the equipment required for machine-assembling and welding. It has automatic and semi-automatic equipment for carbon dioxide and argon gas-shielded welding and manual arc welding, as well as furnaces for equipment heat treatment and pipe bend austinitization, roller supports.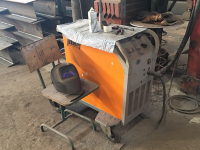 We have gained much experience related to engineering, manufacture and maintenance of steel structures, heat exchange, vessel and non-standard equipment for objects of NPPs, TPPs, petrochemical, cement industry and metallurgy. We have established broad cooperation ties in Volgodonsk, Shakhty and Rostov-on-the Don that greatly expand he opportunities in the production of equipment for various branches of industry.